Performing Arts Market in Seoul hosts a wide array of special events to make your experience a memorable one and to enable you to connect with colleagues.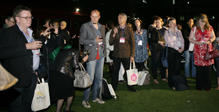 - Date & Time: Oct.8 (Mon) 18:00-19:00
- Location: Korea National University of Arts, K-Arts Theater


Date & Time: Oct.9 (Tue) 11:00-12:00 (Ceremony), 12:00-13:00 (Reception)
Location: Small Hall DAL (Ceremony), 1st floor of Main Hall HAE (Reception), National Theater of Korea

Hamlet, Yohangza Theatre Company – PAMS Choice 2012 Selection

A version of Hamlet that uses traditional Korean gut ceremonies to achieve catharsis.

This version of Hamlet by Yohangza Theater Company, whose many previous productions have combined an East Asian image with a strongly experimental flavor, conveys all the anger and sadness of Shakespeare's classic work through powerful stage design and a beautiful mis-en-scene. Introducing the traditional Korean gut exorcism ceremony, the production creates a drama full of the conflict, confusion and tragedy of its vengeful, plotting characters. Against the background of a stage design that uses lines, colors and the beauty of empty space to convey a sophisticated sense of minimalism, Hamlet's anger and cold insanity at the truth of the destiny he faces reflect the inner workings of members of today's society. Directed by Jung-Ung YANG.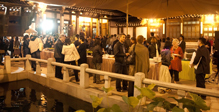 - Date & Time: Oct.12 (Fri) 17:00-18:00
- Location: Total Museum of Contemporary Art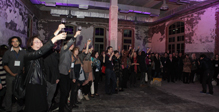 Stepmemories: Return of the Oppressed, greenpig – PAMS Choice 2012 Selection
- Date & Time: Oct.12 (Fri) 15:30-17:00
- Location: Total Museum of Contemporary Art

In war, what you remember is not what you remember.
Step memories tells the stories of people that are forgotten within the grand narrative of war. Through testimonies with suppressed memories, they face historical facts and examine the possibility of dialogue between victims and aggressors, or with society. The result is a combination of genres including acting, music, imagery and art. Step memories has been invited to Festival Tokyo in November 2012. Directed by Han-Sol YOON.